Uniquely adapted for Process Flow Analysis
For all process industries process – chemical, pharmaceutical, oil, polymer, paint industries – whether with continuous or batch operations, a simulation study sharpens the managing rules, flow control and organization decisions so as to:
Choose money-saving production series complying with fluctuating product mix.
Test and compare different equipment configurations
Reduce generation of unwanted products
Size silos, hoppers, tanks, production batches
Resist random variation of raw materials and orders
Visualize functionality in terms of throughput and predicting the limits of each solution

ExtendSim is specially adapted for this kind of issues, with its Rate library meant for flows like powders or liquids (or bulk material), moving through the model controlled by valves, merged or separated according to realistic rules, reproducing precisely the operations met in process industry.
---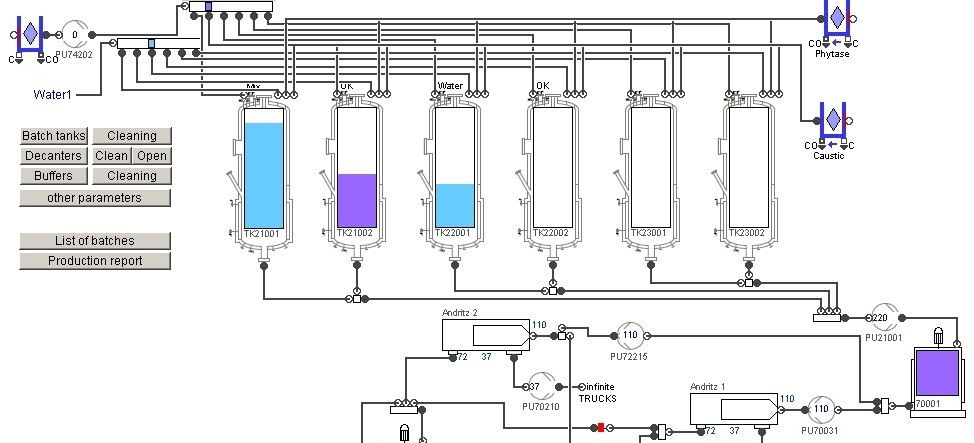 This model simulate a chemical plant constrained by a limited water resource : it revealed mandatory to adjust the operation sequence to favor the more water-efficient, to validate the equipment size (tanks, centrifuges, heat exchangers), and in the end favor specific production schedules where water was better used.
Among our customers on similar projects: Rhodia Solvay – Arkema – Rio Tinto Alcan – Sanofi Aventis – Technip – Carbone Industrie – Carbone Savoie – Cristal Global – Norske Skog Papeteries – UCB Chemicals – Rohm & Haas – Firmenich – Fournier.