Airports and terminals issues
HUBSIM is a comprehensive solution to simulate and optimize passengers flow in airports. This application simulates precisely every single passenger from arrival plane landing to departure plane boarding in large multi-modal infrastructures. It takes into account walking traveling time, passport and/or baggage checking (with resource affectation optimization), finite capacity bus or shuttle transfers in large airports, as well as different passenger types (high/low contribution, reduced mobility PAX, children etc.).
Shuttles routes and timetables, check-point size, door assignment to planes, are all factors contributing that a passenger catches a connecting flight. ExtendSim simulates a whole day at Charles de Gaulle Airport in less than 5 minutes (about 100 000 PAX). User-friendly interface and easy import/export to MS Access database allow users to setup scenarios and make customized reports. HUBSIM becomes the perfect tool for precise infrastructure design, security and evacuation planning and management.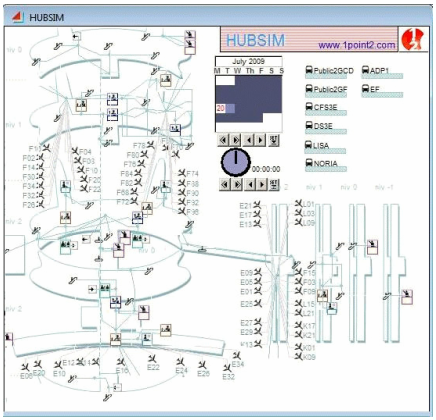 Among our customers on similar projects: Iberia – Aéroport de Paris CDG – Air France